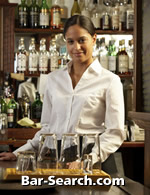 New Additions!
Eagle Bowl
San Marcos
, CA
760-744-7000
Joy Nightclub
Omaha
, NE
402-341-7337
View Website
Port Townsend Cafe
Port Townsend
, WA
360-385-7747
Railroad Crossing
Tipton
, IN
765-675-9199
Heidelberg Club Inc
Huntington
, IN
260-356-7620
Black Angus Steakhouse
Canton
, SD
605-987-9000
Hawaiian Tropics
Danville
, IL
217-443-6040
Shelly's Echo Inn
Damascus
, OR
503-658-5226
Steel Horse Saloon
Phoenix
, AZ
602-942-8778
View Website
Cliff's Lounge
Gilby
, ND
701-869-2660
How to Get into Trendy Clubs
The weekend is a great time to hit the town, hang out with your friends and toss a few cold ones back; or whatever your drink of choice happens to be. For really popular and trendy hot spots; however, this can be much easier said than done. Not only is there the problem of getting pas the guy at the front door and even making it into the club but there is also the matter of making sure you show up attired in the proper clothing. Read on for more tips to make sure your night out on the town goes well.

While we all know that long lines at the most trendy clubs can be frustrating, be aware there are some things you can do to increase your chances of getting in. First, pay attention to what you wear. This isn't the time to just pull something out of your closet, barely glance at it and head out the door. For men, this means choosing a nice pair of pants and a shirt that is equally as nice. A pair of dress pants completes the look. Ladies, of course, have a lot more options when it comes to club wear. Regardless, avoid sneakers, t-shirts and jeans at all costs. If you're going out with a group of people, you might give your friends some fashion tips as well. After all, even if you're dressed the part, if the group you're with isn't, there isn't much chance that any of you will see the inside of the club.

Of course, another way to get in the club is a rather classic choice-slipping the bouncer a few bucks. While they may look fairly intimidating, they really aren't much different than anyone else. Your first step should be to go up to whoever is working the door that night and make some friendly conversation. Ask some casual question, perhaps about how long the wait might be. Now, it's your cue. Take the opportunity to slip him a bill but make sure you do it casually and subtly. This approach can work wonders.

The worst thing you can do, of course, when you're trying to get into a club is to develop a cocky and arrogant attitude. If you do that and aggravate the bouncer there is practically nothing else you can do to make amends that will get you inside the club-either that night or any other night for that matter. Bouncers have incredibly long memories. Show him respect and there's a good chance he'll do the same for you.

Be aware that some of the really popular clubs tend to have a line for the VIPs and a line for the rest of us. Do be sure you're waiting in the right line.
Another tip to keep in mind is that you have a much better chance of getting into the club if you look like you're part of a couple rather than part of a group. This doesn't necessarily mean that you must have a significant other to drag to the club with you, but if you have a friend who just happens to be willing to play along with the part so that both of you can get into the club, you may stand a much better chance.

The main thing to keep in mind when you're trying to get into a club is to try to show some class and avoid looking like you're either trying to impress someone by acting cooler than everyone else or looking like you're desperate to get in.