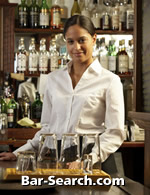 New Additions!
Harry's Watering Hole
Reno
, NV
775-825-2292
A's Place Restaurant & Lounge
Federal Way
, WA
253-927-5119
Mcelroy's Pub
Houston
, TX
713-524-2444
View Website
Extreme Nights Dance Club
Janesville
, WI
608-741-0001
Office Cocktail Lounge
Anchorage
, AK
907-274-4042
Olde Hitching Post Restaurant
Hanson
, MA
781-447-2592
View Website
Red And Deb's Place
Macon
, GA
478-781-1548
Blue Top Inn
Ripley
, TN
731-635-4652
Paradise Bar
Ishpeming
, MI
906-486-8851
Corners Saloon
Napa
, CA
707-252-2741
Flying Solo
While nightclubbing can be a lot of fun for some people it can be a bit frightening, if you happen to be flying solo. While there could be a lot of reasons for going to a bar alone, including just having moved to town or your friends all having other plans that night, the result is still the same-it can be difficult to go clubbing alone. Some people even fear that other clubbers will know they are on their own the minute they walk in the door.

Regardless of why you might happen to be going out alone, there are a lot of ways to approach the matter and make sure that you have an enjoyable evening. Read on for more details to help you get started.

One of the best ways you can insure an enjoyable evening is to make sure that you make friendly with the staff. This provides a number of great advantages. First, if you make friends with the bouncer, you're less likely to wait in the line on the other side of the door for hours while everyone else is partying inside. While this may sound difficult, it's really not. All you have to do is to avoid looking like you're trying too hard, not act like you're cooler than he is and show him some respect and you'll be amazed how fast that door will swing open for you. While you're waiting, start up some casual conversation with him. If nothing else, it passes the time; but more than likely it will help you to build a rapport with him. Try not to overdo it; however. Focus on making small talk. Other key staff to focus on once you're actually inside are the bartender and the DJ. Once again, make sure you treat both of these people with respect. Avoid making demands and whining. Be friendly. Before you know it you will have developed a good relationship with them and over time they will begin to treat you like a regular-which can come in quite handy.

After you're in the bar, you have a number of options available to you. One way to approach this is to hang out at the bar with your drink and enjoy everything that is going on around you. If this is your first trip to a bar, pub or club this is an excellent way to get started. Of course, if the club is particularly busy on the night you're there and the bar is really crowded, this isn't such a good idea. You can quickly aggravate other clubbers by hogging the bar. Only use this technique on nights when the bar isn't crowded.

If you're feeling a bit more daring and there's a game going on you might think about joining one. Pool tables are always an excellent choice. If you don't play pool; however, or if there isn't a game going on you might also consider joining a game of darts. Both of these options are a great way to meet other people.
While it's always fun to meet new people at the local bar or pub, it is important to avoid looking as though you are trying to hard. Avoid interrupting other groups, especially if they are talking. There are other ways you can meet others, such as joining a game.

Finally, don't forget that even though you might be flying solo at the club that night, no one else there has to know that you're on your own unless you want them to know. It's totally up to you whether you want to divulge that little piece of information.